The Learning Zone is tutoring program designed to provide K-12 students with a positive environment conducive to the focus and concentration required to learn.
Working closely with you, our Operations Director will discuss your concerns, and then consult with your child's teacher to identify areas in need of improvement. Individualized lessons prepared specifically for your child will be created by one of our highly qualified tutors. Frequent, informal assessments will be prepared and presented to you and the teacher.
Pearce membership NOT required. We offer one on one tutoring to help students achieve their best in academics and study habits.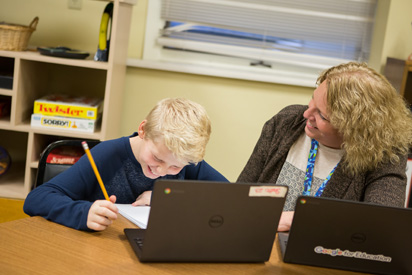 One Hour One-on-One Tutoring Session
Days:
Monday – Thursday during the school year
By appointment only during the summer
Fees:
Foundation Members: $18.75
Members: $25
Non-Members: $30
Financial Aid
A limited amount of financial aid is available to those who qualify.
Information and Registration
Contact Amber Taylor, [email protected], or (309) 274-4209 ext. 104.