Our land-based group fitness classes offer a variety of workouts that focus on different areas of fitness.
Whether you're looking to build strength and mass; develop toned muscles and stamina; or stretch and recharge physically, mentally, and spiritually—we've got a class for you!
Grab one of our Group Fitness Schedules from the Front Desk, and join a class below that works for you!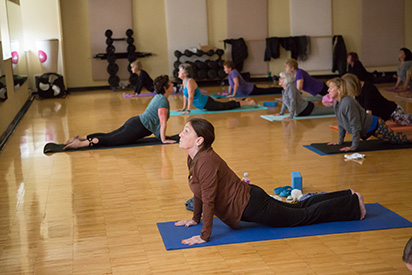 Beginner Exercise
Cardio & Toning: A blend of light cardio and light toning movements that are good for any beginner looking for a light, full-body workout.

Silver Sneakers:

This class focuses on strengthening muscles and increasing range of movement for daily life activities. Participants can use hand-held weights, elastic tubing with handles, and a SilverSneakers ball. A chair is used for seated exercises or standing support.

Silver Sneakers Seated Yoga:

This class will move your whole body through a complete series of seated and standing yoga poses.  Chair support is offered to safely perform a variety of postures designed to increase flexibility, balance, and range of movement.
Balance & Strength:  This class is a combination of strength training and basic movements to improve balance and flexibility.  This class is designed for those who prefer a workout without the added impact to joints.  A chair is used for seated exercises or standing support.
Beginner Yoga: Beginners, this class is for you. You will be encouraged to pace yourselves and focus on mastering the basic poses before moving on to more complex poses.
Yoga: This class incorporates yoga postures, gentle movement sequences, breath work, supported silent meditation, and guided relaxation to support increased awareness and mindfulness of the breath and body.
Yoga Flow: Yoga flow is a vigorous class where the movements are connected to each other in a flowing manner and linking movement with the breath as a primary focus.
Mid-level Exercise
Barre: This class incorporates a ballet barre and uses classic dance moves such as plies, alongside static stretches.  It focuses on high repetitions and small range of movement.
Barre Palates Fusion: This class is a hybrid workout class – combining ballet-inspired moves with elements of Pilates, dance, yoga, and strength training.
Cycling: This class gives you the opportunity to not only experience an incredible training program, but also a personal challenge, camaraderie, and energy—all at your own pace. Whether you ride to get stronger, nurture your body and spirit, sweat out the events of the day, or reinvent yourself, cycling is your ride. A low-impact workout that welcomes all fitness levels.
ZUMBA: Exotic rhythms set to high-energy Latin and international beats. Before participants know it, they're getting fit and their energy levels are soaring! It's easy to do, effective, and totally exhilarating.
advanced Exercise
Les Mills BODYPUMP: This class integrates using moderate weights with lots of repetitions. BODYPUMP gives you a total body workout.
Les Mills SPRINT: This class is a 30-minute High-Intensity Interval Training (HIIT) workout, using an indoor bike to achieve fast results. It's a short, intense style of training where the thrill and motivation come from pushing your physical and mental limits.
Les Mills BODYCOMBAT: This class is a high-energy martial arts-inspired workout that is totally non-contact.  Punch and kick your way to fitness.
TRX: TRX is a form of suspension training that uses bodyweight exercises to develop strength, balance, flexibility, and core stability simultaneously.
TRX BOOTCAMP: This class includes a circuit of exercises geared towards elevating the heart rate. The class utilizes a variety of equipment including the TRX suspension straps, kettlebells, weighted balls, dumbbells, bodyweight exercises, and so much more.